Powerful assays for ultra-sensitive epigenomics
CUTANA™ CUT&Tag assays provide a streamlined, cost-effective workflow for chromatin mapping. These assays bypass the most challenging steps of traditional ChIP-seq profiling strategies, resulting in multiple advantages:
Cells to libraries < 2 days using exclusive one-tube protocol
High signal over background
Reliable profiles for low cell numbers
Cost-efficient sequencing with only 5-8 million reads per sample
Robust assay kits, protocols, and controls available!
Have Questions?
We're here to help. Click below and a member of our team will get back to you shortly!
Request More Info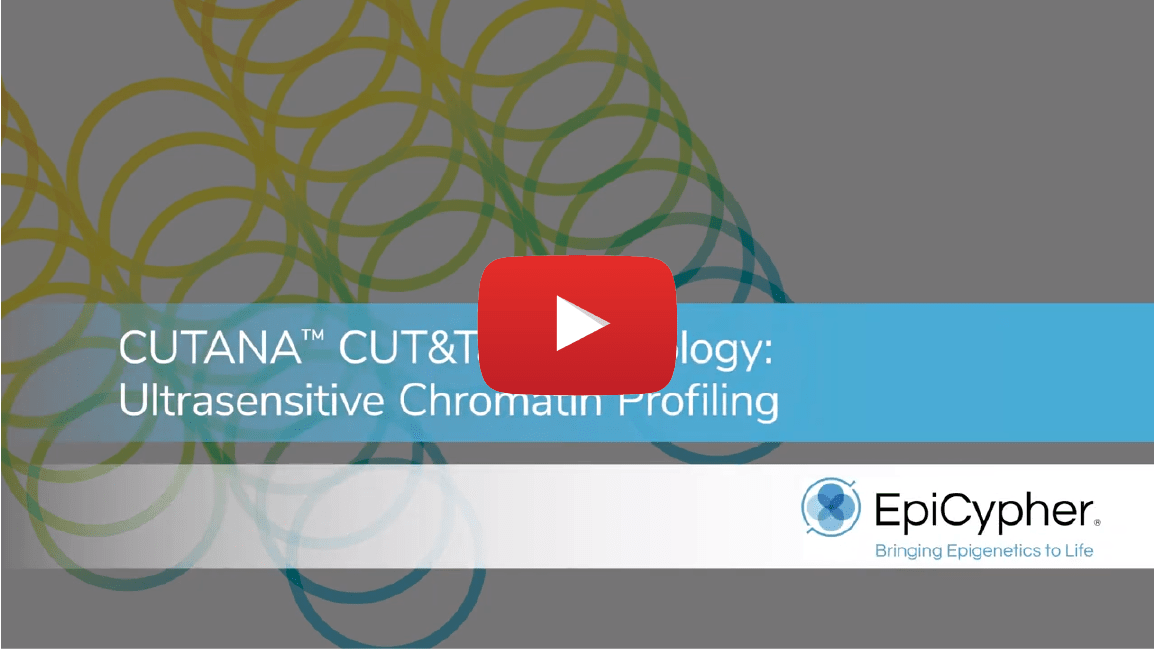 CUTANA™ CUT&Tag provides impressive gains in histone PTM mapping compared to ChIP-seq, the traditional chromatin mapping assay.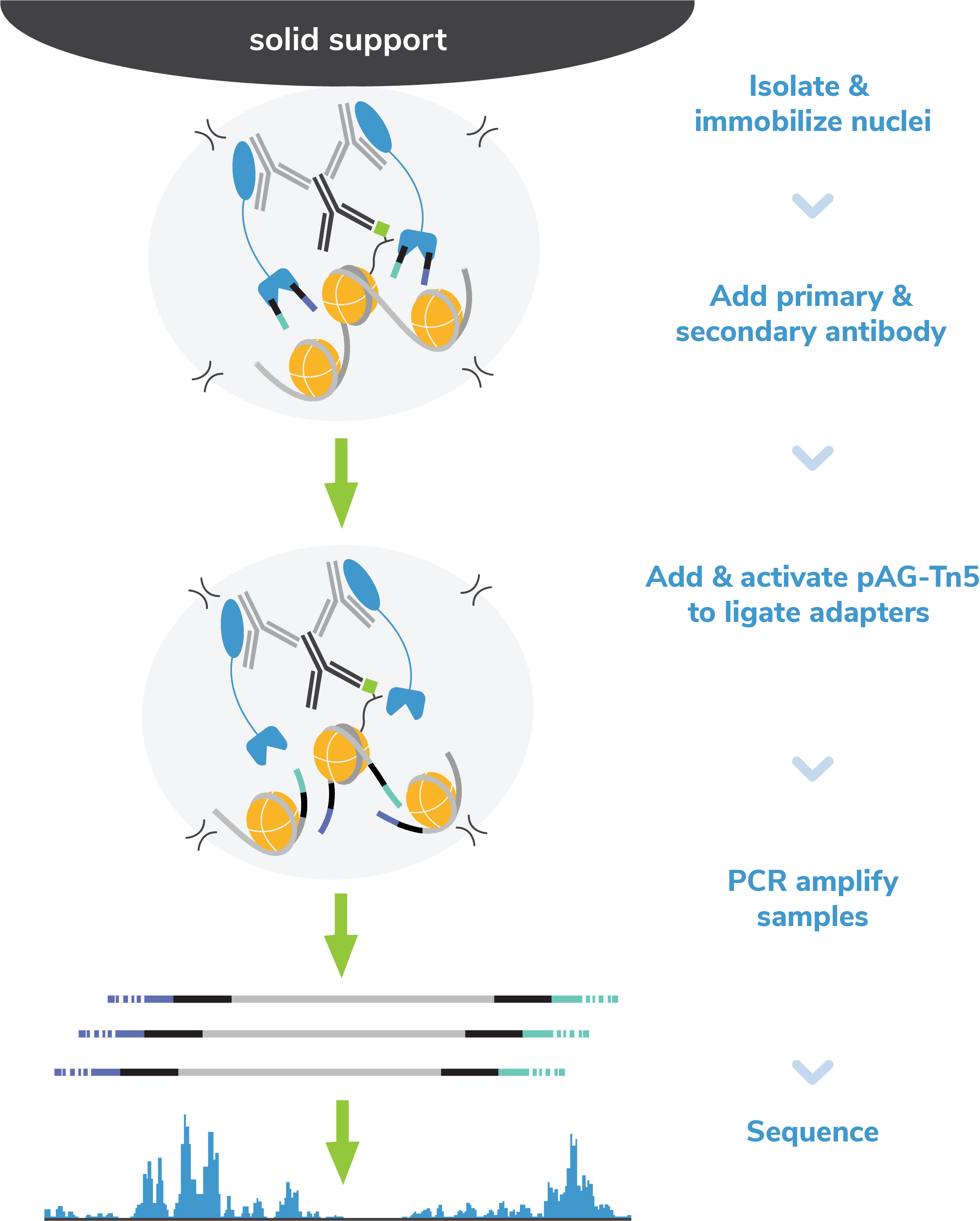 How does CUT&Tag work?
Cleavage Under Targets and Tagmentation (CUT&Tag) is a novel immunotethering-based chromatin mapping assay.
In CUT&Tag, a fusion of protein A, protein G, and Tn5 transposase (pAG-Tn5) is used to cleave and add sequencing adapters at antibody-bound chromatin. Tagmented DNA is selectively amplified by PCR and sequenced.
This strategy eliminates chromatin fragmentation, IP, and library prep, streamlining CUT&Tag workflows vs. ChIP-seq. Resulting profiles have improved signal over background using small numbers of cells and deliver major cost savings.
Is CUT&Tag right for your project? See this blog for help and try our CUT&Tag Kit to get started!
Go from cells to sequencing-ready DNA in < 2 days
Get started with CUTANA™ CUT&Tag assays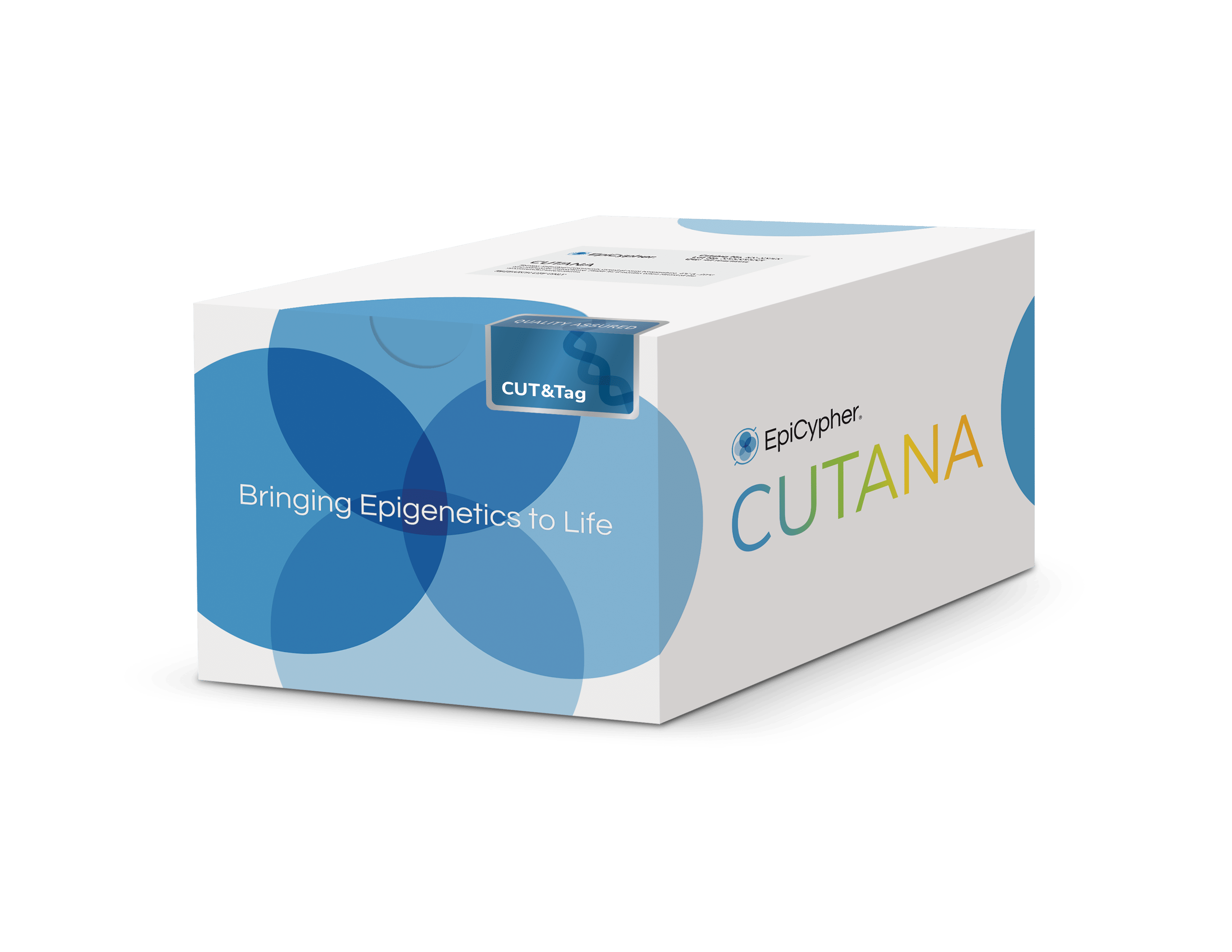 CUTANA™ CUT&Tag Kit
Get the reagents you need for CUT&Tag in one convenient box. The kit also includes a comprehensive manual, with troubleshooting tips and FAQs.
CUTANA™ pAG-Tn5 for CUT&Tag
Plan your next CUT&Tag experiment! pAG-Tn5 cleaves and appends sequencing adapters to antibody-bound chromatin.
CUTANA™ CUT&Tag Antibodies
Map with confidence. Our histone PTM antibodies are validated directly in CUT&Tag for high on-target specificity and efficiency.
The CUTANA™ CUT&Tag Protocol & Ideal Applications
EpiCypher makes it easy to customize your CUT&Tag experience by offering an all-inclusive kit, individual reagents & tools, and a user-friendly CUT&Tag protocol.
Both the CUT&Tag protocol and kit manual feature our rapid, one-tube strategy and extensive troubleshooting guidance. These resources are also routinely updated to reflect advances by EpiCypher scientists. The current protocol and kit are optimized for:
Histone PTMs*
Fresh, frozen, and cross-linked nuclei (preferred) or cells
Low inputs (100,000 down to 10,000 starting cells)
Reduced sequencing depths (5-8 million reads)

* We recommend CUTANA CUT&RUN assays to map chromatin-associated proteins. Trying to decide between CUT&RUN and CUT&Tag? Read our blog to learn more.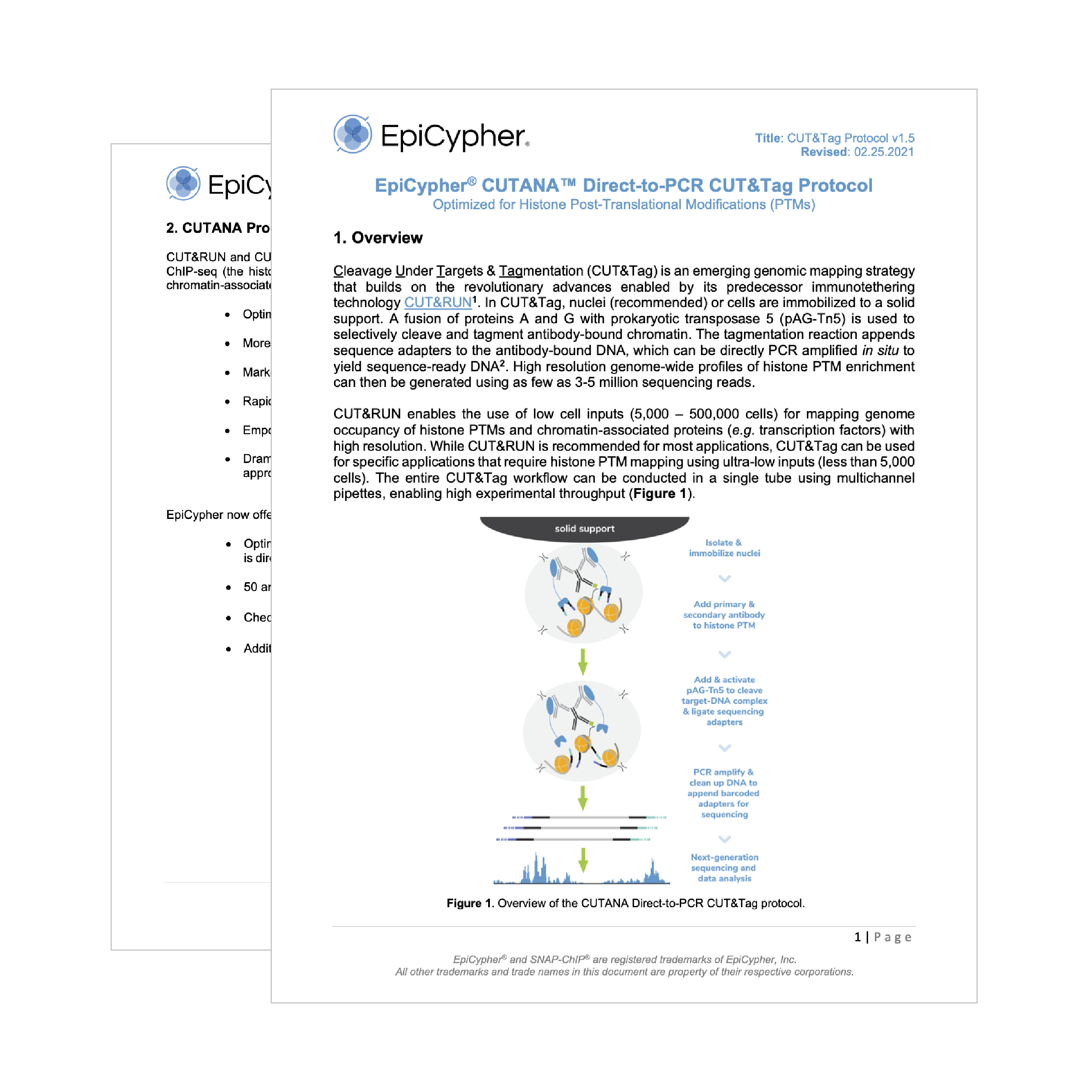 View CUT&Tag Protocol
Featured Publications
For more publications citing CUTANA™ CUT&Tag, click here.