All-in-one solution for quantitative chromatin profiling
Epigenomic mapping of histone post-translational modifications (PTMs) is a powerful and widely used approach for studying chromatin regulation. However, current controls are ill-defined and unable to provide accurate readouts of assay success, antibody specificity, or be used for quantitative normalization. The true quality of epigenomics data is often obscured, which misleads scientists and wastes valuable resources. EpiCypher has created SNAP Spike-in Controls to address these problems. With one easy step, you can control your assay and be confident in your data:
Direct, quantitative readout of experimental success
In-assay validation of antibody specificity
Robust normalization for cross-sample comparisons
Compatible with CUT&RUN, CUT&Tag and ChIP-seq assays
Have Questions?
We're here to help. Click below and a member of our team will get back to you shortly!
Request More Info
Don't question your results -- Save time and money with SNAP Spike-ins
What are SNAP Spike-in Controls?
SNAP Spike-in Controls are panels of highly pure recombinant human nucleosomes carrying widely studied histone PTMs, each wrapped with a barcoded DNA template that can be easily distinguished from sample chromatin by sequencing or qPCR.
SNAP Spike-ins are added to sample chromatin in one simple pipetting step at the beginning of your histone PTM mapping assay, subjecting them to all parts of the workflow and making them the ideal all-in-one control for chromatin profiling.
Spike-in panels are available for various chromatin mapping assays, including our CUTANA™ CUT&RUN and CUT&Tag assays, as well as ChIP-seq.
To learn more about our SNAP Spike-ins for CUT&RUN, check out our Technical Support Center.
The Advantages of SNAP Spike-ins
Quantitative controls for assay optimization & troubleshooting
SNAP Spike-ins provide a direct readout of assay success. Comparing sample vs. spike-in data reveals valuable information about sample quality, antibody specificity, and workflow performance that is impossible with other controls. Use SNAP Spike-ins to:
Flag failed reactions (see Figure)
Guide troubleshooting: is the problem with cells, antibody, or workflow?
Develop reliable assays for low cell inputs and clinical applications
Continuously monitor assay success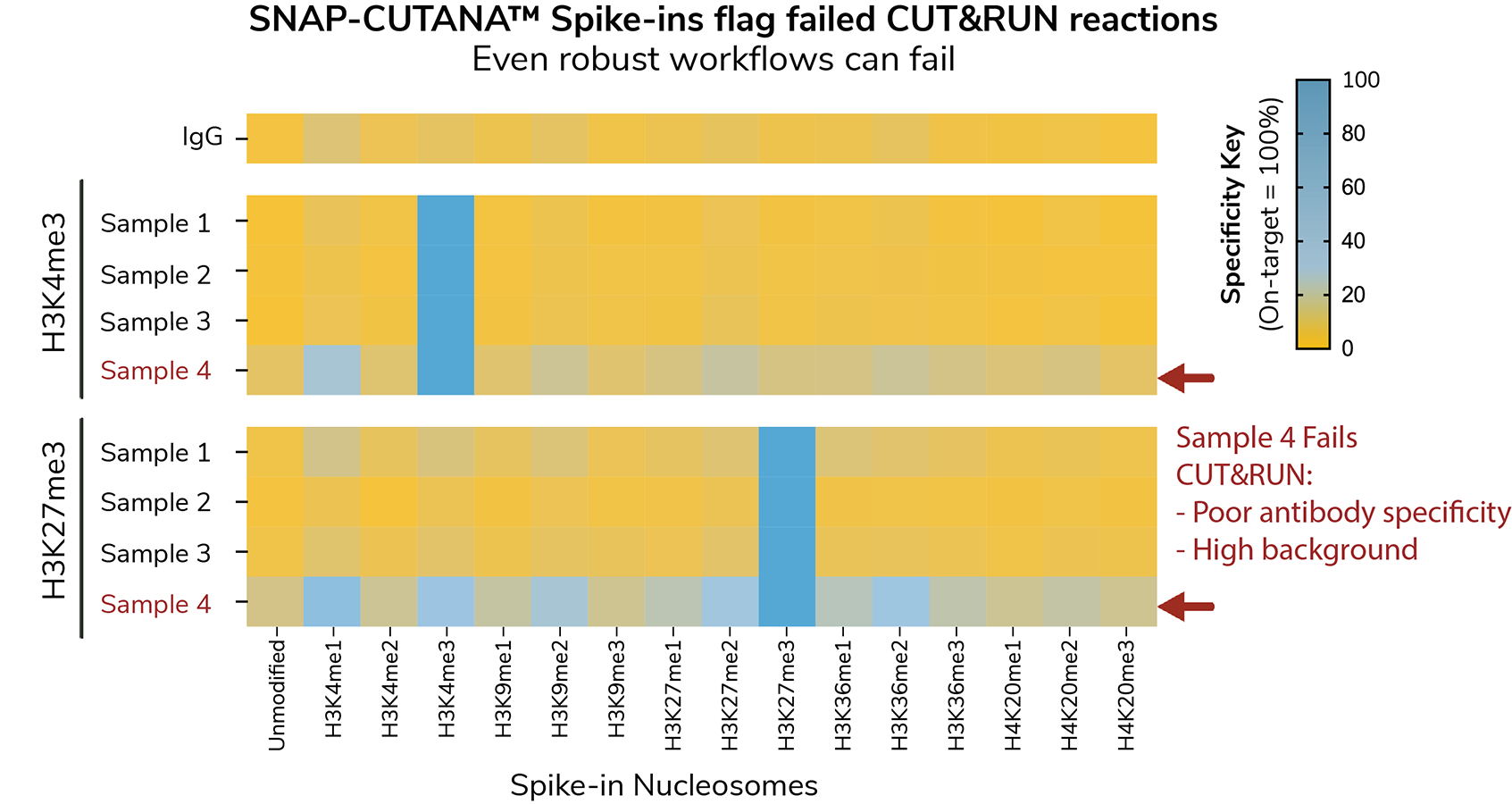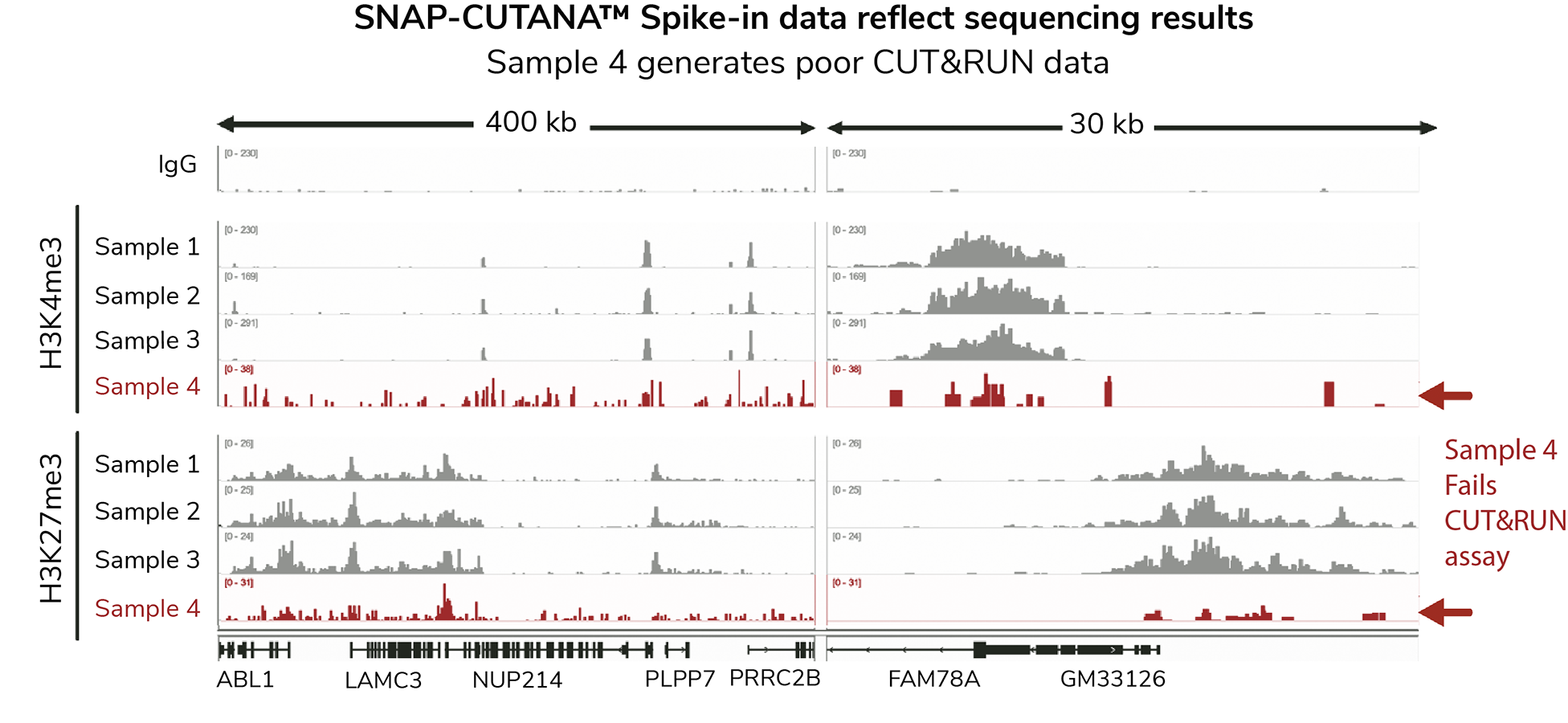 In-assay antibody validation against defined nucleosome controls
SNAP Spike-ins are the only control that allow you to directly test the specificity of your antibody where it matters most: in your assay.
Direct readout of antibody specificity against highly pure physiological substrates
Validate antibody for your unique cell type and conditions
Avoid contaminating off-target signal for more accurate results (see Figure)
Convenient panels of widely studied histone PTM targets (lysine methylation, lysine acylation, and more)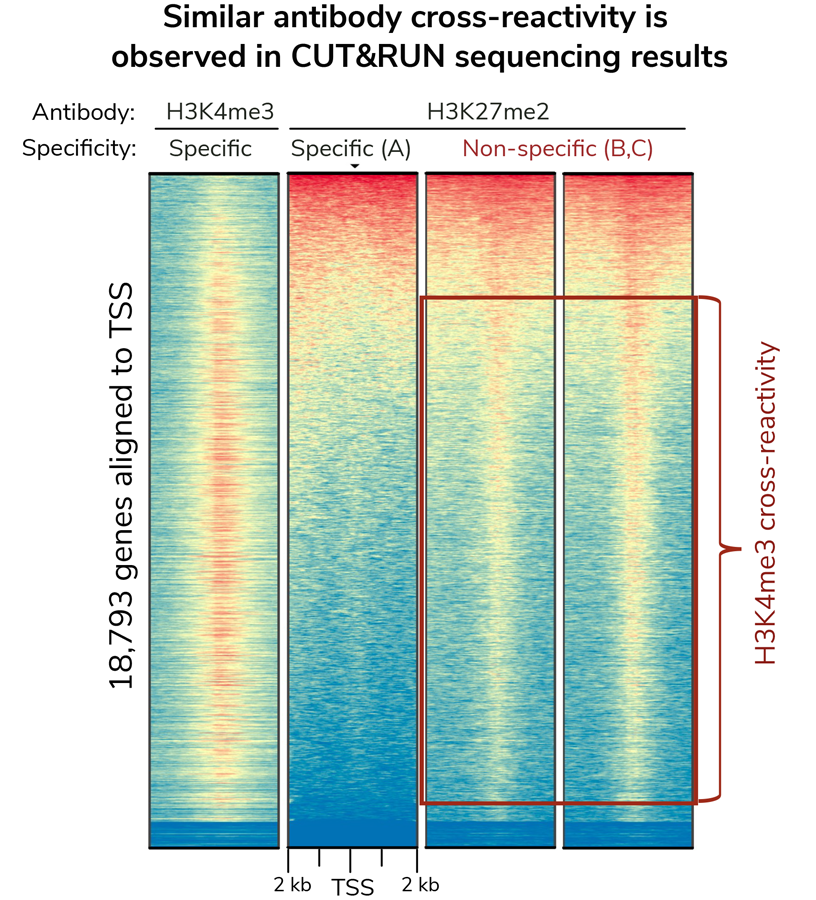 Robust sample normalization for reliable comparisons
Spike-in controls are essential to compare chromatin profiles across experiments, particularly for clinical and drug development applications. SNAP Spike-ins are a major advancement over existing exogenous chromatin spike-ins:
Highly pure, lot-validated panels perform consistently across assays
Compare data across samples, experiments and labs
Standardize assay performance
Quantify drug-induced changes in histone PTM enrichment that are obscured by standard methods (see Figure)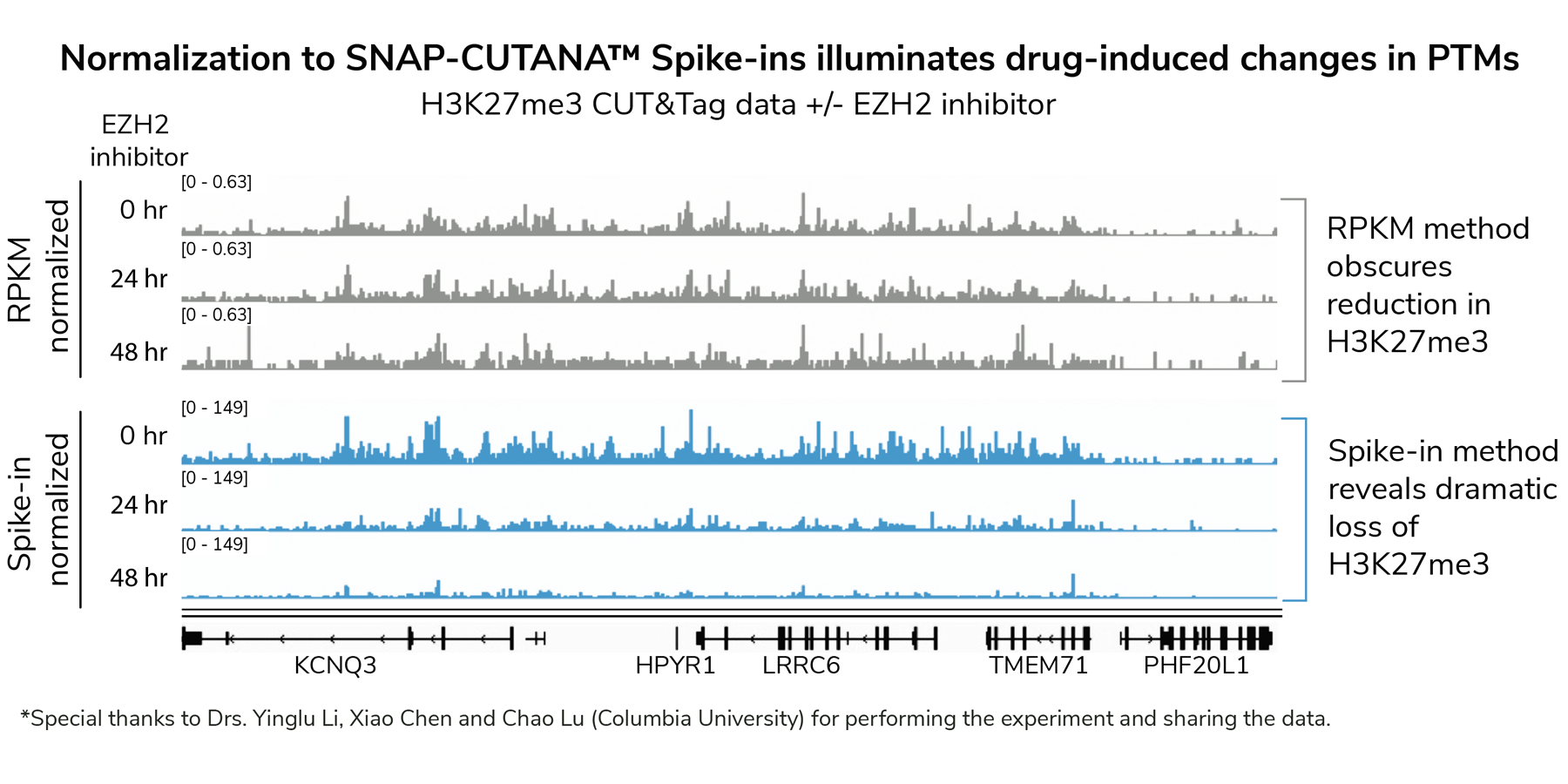 Interested in SNAP Spike-in Controls?