EpiCypher provides SNAP-ChIP® antibody validation services for histone PTM-specific antibodies. SNAP-ChIP® spike-in controls are composed of DNA-barcoded recombinant designer nucleosomes (dNucs), and are only available from EpiCypher. These spike-ins can easily be added to any ChIP workflow to rigorously validate antibody specificity when it matters: in your experiment. Use EpiCypher's SNAP-ChIP® antibody validation services to identify high performance ChIP-grade antibodies and generate quality ChIP-seq data you can trust.
Have Questions?
We're here to help. Click below and a member of our team will get back to you shortly!
Request More info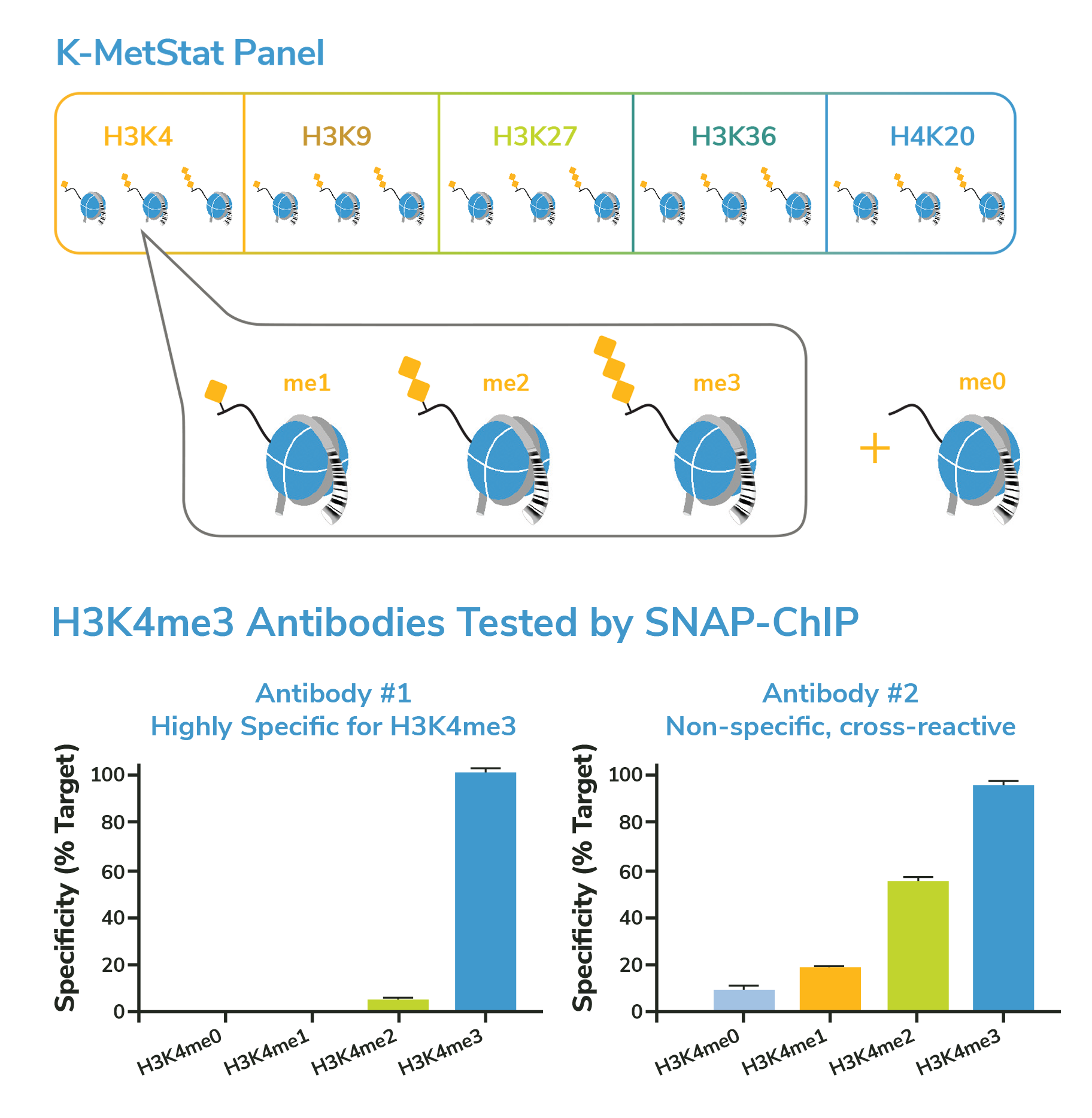 Additional Information
What are the advantages of SNAP-ChIP® antibody validation services?
SNAP-ChIP is unique from other forms of ChIP antibody validation, such as modified histone peptide arrays, as it examines both the specificity and enrichment of a histone PTM antibody against a physiological nucleosome substrate during a standard ChIP workflow.
EpiCypher scientists have significant expertise in optimizing SNAP-ChIP for profiling antibodies to various histone PTM targets, including methylation, acetylation, crotonylation, butyrylation, and more. SNAP-ChIP services are ideal for:
Scientists new to SNAP-ChIP or chromatin profiling technologies
Projects that require extensive antibody screening and validation
Identification of an antibody to an understudied histone PTM
What are the service applications?
We offer SNAP-ChIP antibody validation services to identify highly specific antibodies for ChIP experiments. However, we also provide nucleosome-based antibody validation services for other applications:
AlphaLISA / AlphaScreen: For high-throughput biochemical and cell-based assays
ELISA: For biochemical or cell-based assays
And other customized assays as needed
Publications and Technical Notes
We recently used SNAP-ChIP to profile antibodies to H3K4 methyl states, revealing widespread cross-reactivity of these antibodies in ChIP:
For more information on how SNAP-ChIP experiments are performed, see the manual for the K-MetSata SNAP-CHIP panel.
Other Resources
To learn more about SNAP-ChIP technology, check out these additional resources: