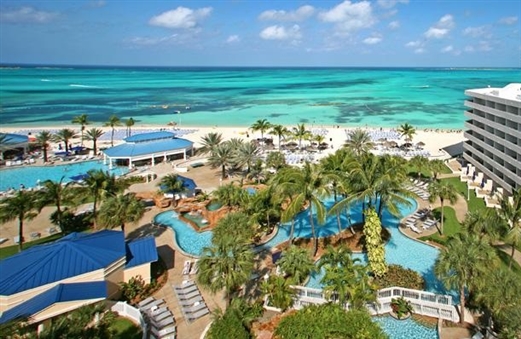 This exciting four-day conference at the beautiful luxury oceanfront Meliá Nassau Beach all inclusive resort in Nassau, Bahamas will highlight recent breakthroughs in epigenetics and chromatin research and will foster the collaboration and exchange of scientific expertise and knowledge in one of the most vibrant areas of life sciences. Through scientific presentations, a wide spectrum of topics in epigenetics and chromatin biology will be explored.
REGISTER HERE
EpiCypher2018: Biological and Clinical Frontiers in Epigenetics will feature keynote addresses by Dr. C. David Allis and Dr. Kristian Helin. Dr. Allis is the Joy and Jack Fishman Professor and Head of the Laboratory of Chromatin Biology and Epigenetics at The Rockefeller University. Dr. Helin is a Professor at the University of Copenhagen and the director of the Danish National Research Foundation's Centre for Epigenetics.
The plenary session talks will cover broad aspects of epigenetics and chromatin biology, ranging from basic molecular mechanisms to therapeutic efforts. There will be discussions around the elucidation of novel mechanisms, new tools, and other breaking topics in epigenetics and chromatin research.
REGISTRATION & PRICING - SPACE IS LIMITED FOR THIS MEETING
Early Registration Deadline: October 1, 2018
Abstract Submission Deadline: October 1, 2018
The meeting is being held and the luxury all-inclusive Meliá Bahams Resort so, in addition to four nights lodging, all meals, and conference materials, attendees will have access to all amenities the property offers, including:
- a special cocktail reception - 24 hour room service (including drinks) - Unlimited dining* - All drinks at the multiple on-site bars and the in-room mini-bar
*- at the Black Angus steakhouse and Starbucks on-site, additional charges will apply see full details for "All Inclusive Plan" here - LINK
Academic Pricing – Double Occupancy Early - $1,450 / Late - $1,495
Academic Pricing – Single Occupancy Early - $1,995 / Late - $2,095
Industry Pricing – Single Occupancy Early - $2,295 / Late - $2,395
Guest Fee* Early - $295 / Late - $395
REGISTER HERE
Co-Organizers
Mark Bedford, Univ. Texas MD Anderson Cancer Center
Or Gozani, Stanford University
Dan Levy, Ben-Gurion University
Brian Strahl, University of North Carolina
The meeting will begin at 6 PM on Tuesday, November 6th and Conclude at noon on Saturday, November 10th

Download conference flyer (pdf)

* Guests receive accommodation for the duration of the conference and all-inclusive plan benefits. Maximum 1 adult guest per paid conference attendee. Maximum room occupancy 2 adults and 2 children. Children over 12 are billed at adult guest fee rate. Children under 2 are free.
Opening Address Keynote Speaker - C. David Allis
Closing Address Keynote Speaker - Dr. Kristian Helin
Scott Armstrong

Emily Bernstein

Taiping Chen

Xiaodong Cheng

Katrin Chua

Wolfgang Fischle

Ben Garcia

Nada Jabado

Steve Jacobsen

Bill Janzen

Cigall Kadoch

Bob Kingston

Ryan Kruger

Ross Levine

En Li




Haitao Li

Hiten Madhani

Karen Maegley

Tom Misteli

Bing Ren

Stephane Richard

Alex Ruthenburg

Yang Shi

Xiaobing Shi

Rob Sims

Marc Timmers

Jonathan Whetstine

Jerry Workman




Bing Zhu
Meliá Nassau Beach 1 West Bay Street, Nassau, New Providence, The Bahamas
Toll Free: +1-855-238-2319 or +1-242-327-6000
Email: reservations.melia.nassau.beach@melia.com
Meliá Nassau Beach is an all-Inclusive luxury resort located right on the stunning Cable Beach, just a few minutes away from the airport and close to Downtown Nassau. Set on 7 oceanfront acres, guests have access to a dizzying array of outdoor pursuits, like kayaking, snorkeling and sailing.
Meliá Nassau Beach All Inclusive offers different dining spaces so you can enjoy a true culinary experience during your stay in Nassau. The property boasts seven bars and restaurants, featuring a range of Caribbean, Creole and Italian cuisines. Details on the EpiCypher 2018 all-inclusive plan are available here. - LINK
Details on bringing a guest to the meeting are available at the conference Payment and Confirmation Page that you will be automatically routed to after completing registration.
If you would like to extend your stay at the Meliá Nassau Beach, please contact them via email or at the at phone number listed above (by phone, ask for "Reservations Desk")
CLICK THUMBNAILS BELOW TO ENLARGE
REGISTRATION PAGE Enter your information below to register for EpiCypher 2018. After submitting your registration form, you will be directed to a page where you can complete registration by paying the conference registration fee.
If you would like to present a poster or give a talk at the meeting, email the abstract and/or talk title in a Word document (No PDFs, please) to epicypher2018@epicypher.com. Many of the talks will be selected from submitted abstracts.
* - Indicates required field.
Travel to Nassau, Bahamas
Arrival: Upon arrival by plane at Nassau's Lynden Pindling International Airport, the Meliá Nassau Beach Resort is a 10 minute cab ride.
Currency: Bahamian Dollar
VISA / Passport Requirements: The Bahamas requires valid passports for all visitors, but typically a VISA is not required if the stay is less than 30 days. Visit the link below for more information on entry requirements.
https://www.bahamas.com/entry-requirements
Weather: On any given day during November in Nassau, you can expect early morning temperatures to be around 72 degrees. Temperatures in Nassau typically rise during the day, to an average of 85 degrees in the early afternoon. By early evening, temperatures in Nassau generally decline to around 75 degrees. In November, the chance of rain is around 15%.
STUDENT TRAVEL AWARDS: Several Student and Post-doc Travel Awards are available for US/Canada attendees ($500) and for International participants ($750).
Travel Award Application Deadline: October 1, 2018
Travel Award Notification: October 15, 2018
Who is eligible? These awards are eligible to full-time graduate students that have registered to attend EpiCypher 2018.
Should I register for the meeting? To attend the meeting, it will be necessary for you to register. After you register and pay for the meeting, you may apply for the travel award.
When will I be reimbursed? At the conclusion of the meeting you will need to submit your receipts, after which we will send you a check for the total amount of your travel expenses or the allotted award amount, whichever is less.
How do I apply for the award? To apply, send an email to epicypher2018@epicypher.com with the subject line "EpiCypher 2018 Travel Award Application" and include the following information: 1. Your name 2. Your institution and department 3. The name of your primary investigator / graduate advisor 4. A brief statement describing your research (a single paragraph will suffice)