Ultra-sensitive. Rapid results. Rigorously tested.
Cleavage Under Targets and Tagmentation (CUT&Tag) assays use a fusion of protein A, protein G, and Tn5 (pAG-Tn5) to selectively target antibody-labelled chromatin for high-resolution sequencing analysis. These innovations enable low-cost mapping from small numbers of cells – poising CUT&Tag to enable epigenomic studies of unprecedented breadth and scale.
EpiCypher is a leading provider of user-friendly CUT&Tag reagents and workflows. The CUTANA™ CUT&Tag Kit is the result of our rigorous optimization efforts and has been intentionally designed for rapid throughput and accessible pricing. Advantages include:
Have Questions?
We're here to help. Click below and a member of our team will get back to you shortly!
Request More Info
Streamlined two-day protocol with no library prep
Exclusive single-tube workflow maximizes yield
Reliable profiling using low cell numbers
Dramatically reduced assay costs
Comprehensive kit goes from cells to sequence-ready DNA
Robust signal in active and repressed chromatin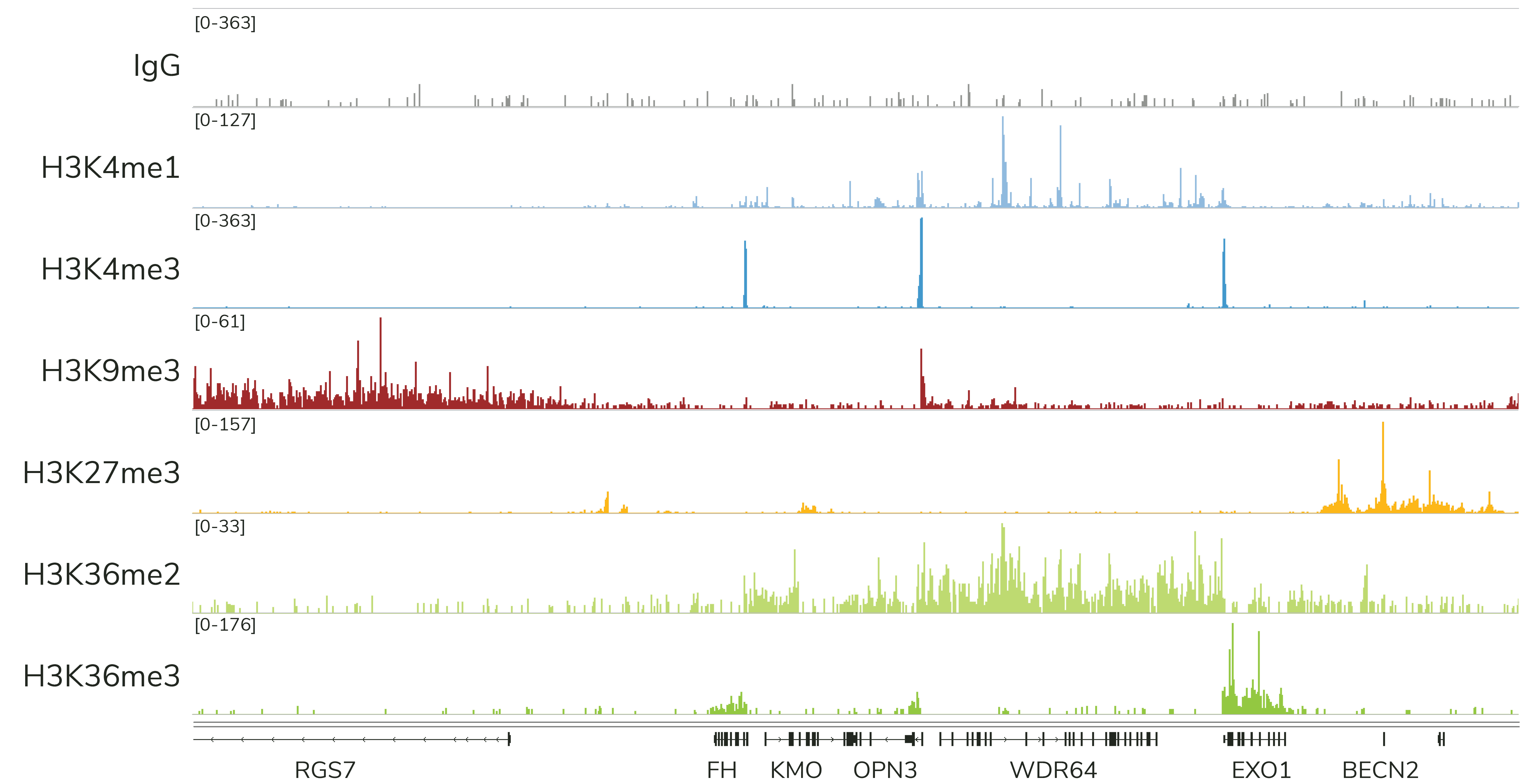 CUTANA™ CUT&Tag maps histone PTMs at active regulatory elements (H3K4me1) and promoters (H3K4me3), constitutive (H3K9me3) and facultative (H3K27me3) heterochromatin and active gene bodies (H3K36me2/me3) in K562 cells. CUT&Tag is not recommended for chromatin-associated proteins.
High-quality chromatin mapping from low cell numbers
The CUTANA™ CUT&Tag protocol generates data with high signal over background using as few as 10,000 cells and only 5-8 million sequencing reads.
These advances are driven by EpiCypher's one-tube CUT&Tag workflow, which minimizes sample loss and increases throughput. Combined with low sequencing depth requirements, our kit provides substantial cost savings vs. ChIP-seq.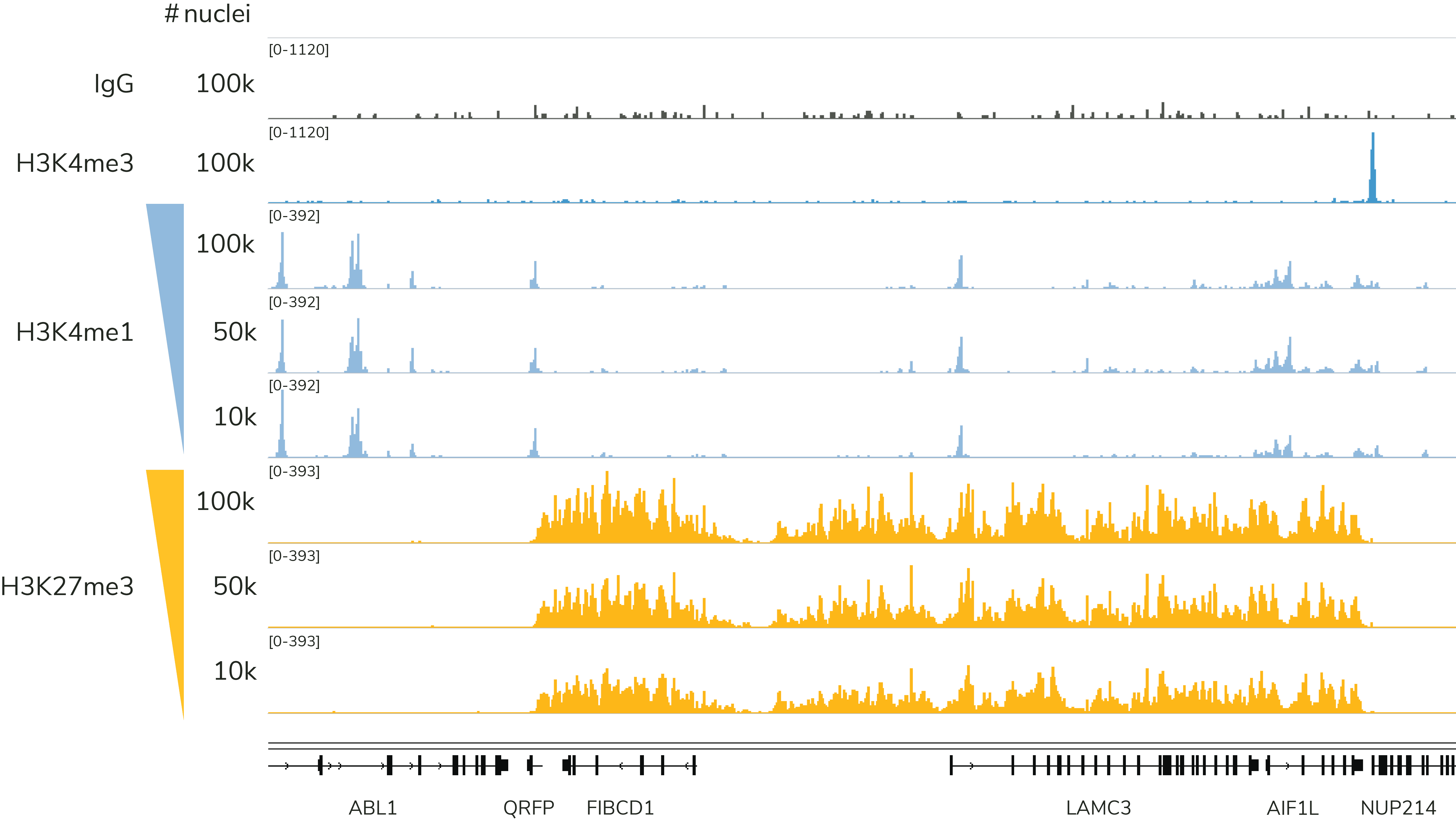 Reliable workflow supported by robust controls
EpiCypher scientists have developed a user-friendly protocol that is highly consistent across assay replicates. The CUTANA™ CUT&Tag Kit comes with all the controls and guidance you need for successful experiments:
Control antibodies
Nucleosome spike-in controls
Detailed quality control metrics
Troubleshooting tips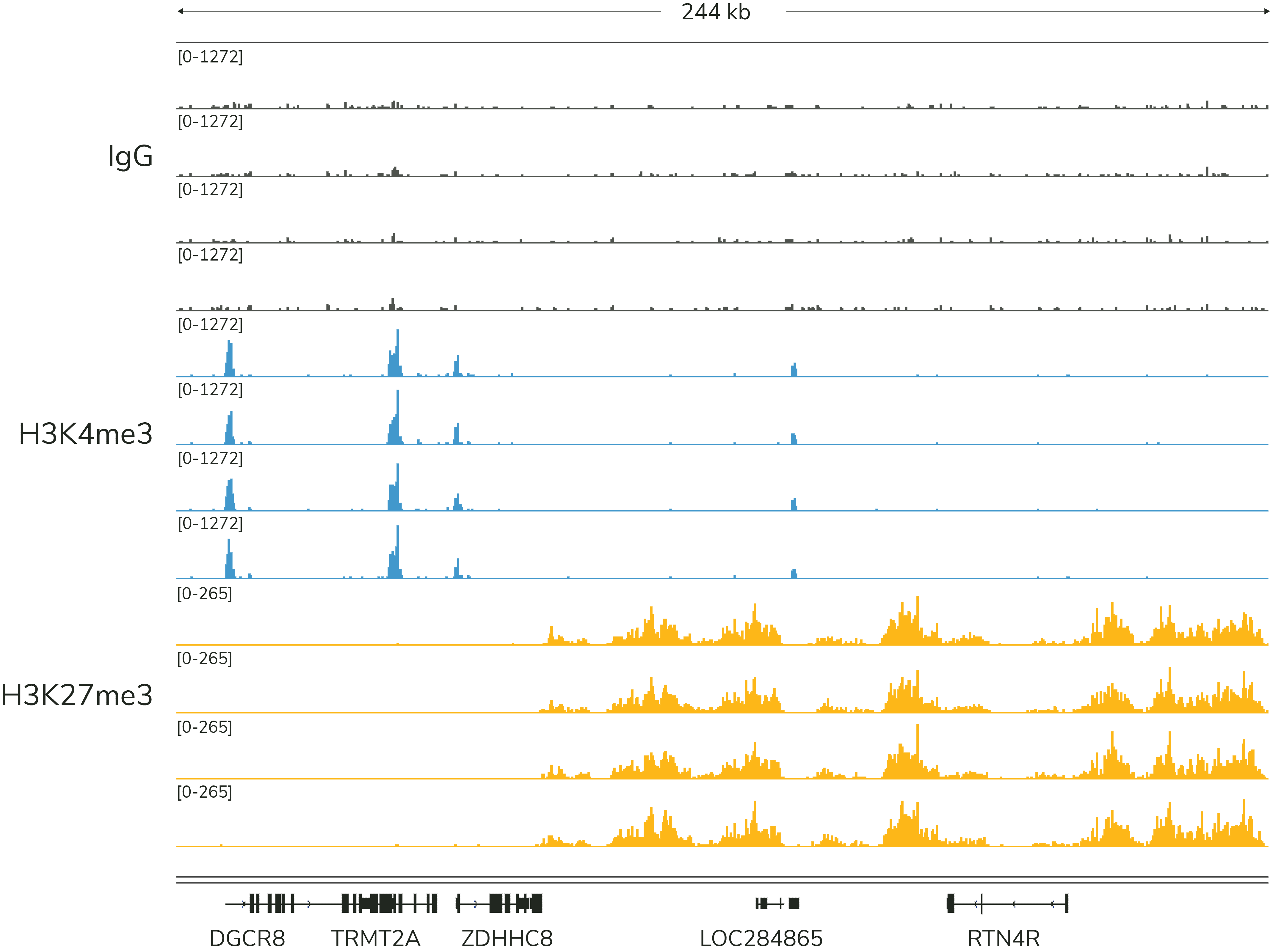 Compatible with diverse sample processing conditions
The CUTANA™ CUT&Tag Kit was used to map H3K4me3 in native (unfixed) nuclei, native cells, and lightly cross-linked nuclei, using protocol adaptations outlined in the manual. Results are consistent across sample preparations, expanding the application of CUT&Tag to additional sample types and targets.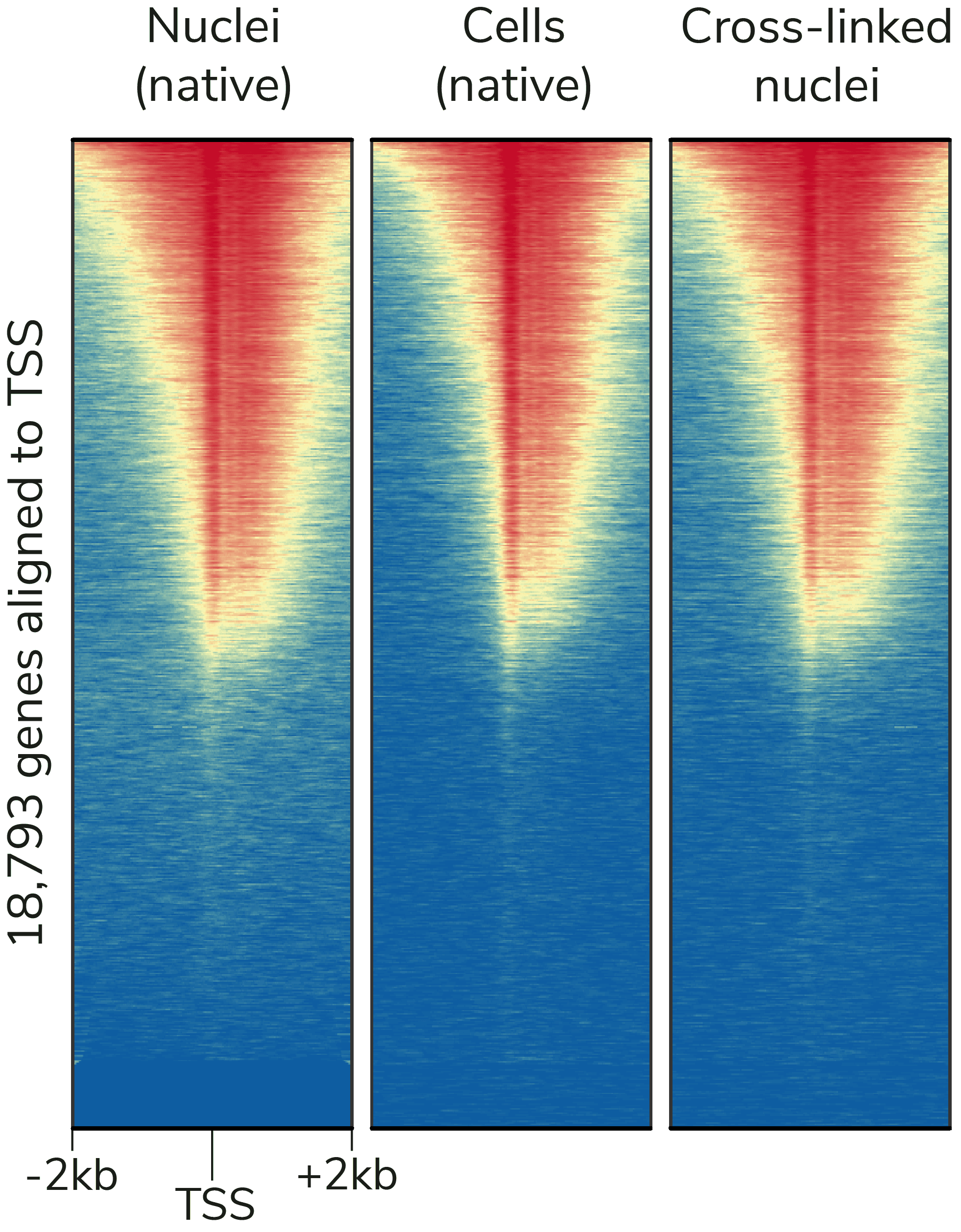 CUTANA™ CUT&Tag Kit – A Look Inside the Box!
Everything you need for high-quality chromatin mapping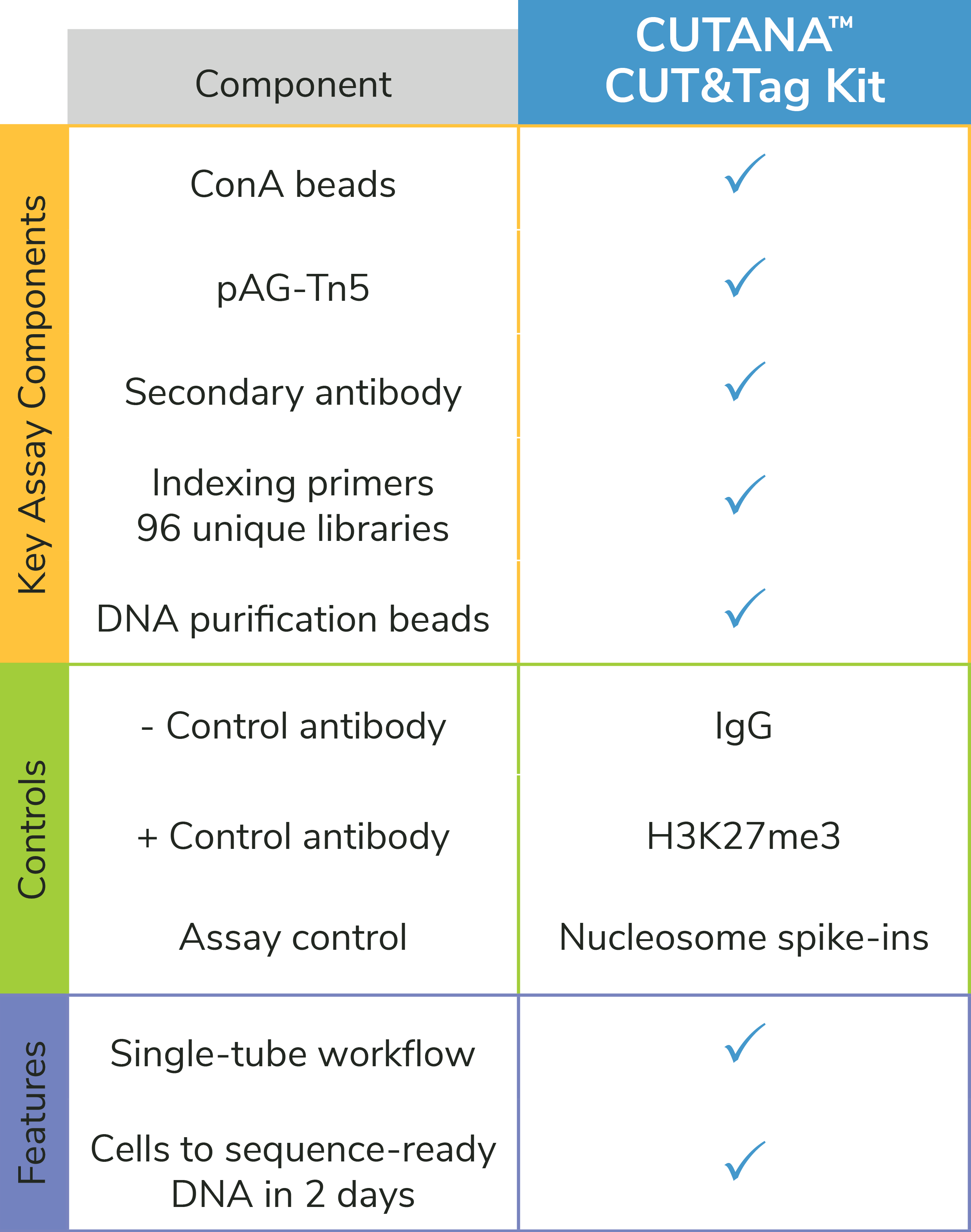 The CUTANA™ CUT&Tag Kit Manual
The CUTANA™ CUT&Tag Manual is a complete guide to CUT&Tag experiments. It leverages EpiCypher's own research & development to help users plan and execute successful CUT&Tag assays. In addition to our user-friendly protocol, we provide key guidance on:
Optimizing assays for new cell types, targets, or low cell numbers
How to identify suitable antibodies for CUT&Tag
Quality control metrics for before and after sequencing
Selecting an appropriate sequencing platform
Troubleshooting difficult assays
and much more!
The kit also comes with a two-sided protocol quick card to keep at your bench while performing CUT&Tag assays.
*Promo code terms and conditions: Offer valid on CUT&Tag Kit purchases (cat# 14-1102 & #14-1103) made through 11:59pm ET on 09/30/23 on epicypher.com and with participating distributors. Offer is only applicable to CUT&Tag Kit purchases, no other products are included in this promotion. Offer has no cash value and may not be altered, sold, or transferred. This promotion offer is subject to change, alteration, or termination by EpiCypher at its sole discretion at any time.